Durasafe®, Laminex and Polytec Colour Comparison
Durasafe® Overview
The Durasafe® range has many bright and vibrant colors which have been selected as part of Duracube's drive to be at the forefront of the latest colours and designs in washrooms. The Durasafe® colours will give your Commercial Bathrooms that extra boost and zing you've been looking for!
With the wide range of toilet partition colours we often have builders and architects asking which if our colours are similar, equivalent or close alternatives to the Laminex and Polytec ranges. 
Many of the Durasafe® Woodgrain and matt colours are a very close match to the Laminex Multipurpose Compact Laminate and Polytec Compact Laminate Range. This makes the Durasafe® range a perfect alternative for your project to achieve increased quality control, cost savings and fast lead times.
Benefits of Durasafe® compact laminate:
Superior technical specifications (All testing certifications are available and the results are shown in the Durasafe® colour chart).
Greater control of supply chain including stock and manufacturing / cut-to-size in the one location in Australian minimising stock and/or lead time issues
Ability to earmark specific colours and custom sizes to suit specific requirements of Large projects.
Colours designed and selected in conjunction with leading Australian Architectural practices.
Managed by industry professionals based in Australia who've been in the industry for over 30 years and highly proficient in manufacturing toilet cubicles and working with compact laminate.
Durasafe® Colours
Durasafe® is stocked in Australia in over 30 colours with 3 different finishes including Matt, Raw Oak and Gloss, comes standard with a black core. Durasafe® also offer a non-stock range manufactured to order with a 12 week lead time and minimum quantities an additional 50 plus colours and difference finishes and the option for colour through core, white core, multicore options.
The Durasafe® Matt finish is similar to Laminex Suede, Laminex Natural, Laminex Flint, Laminex Matt, Polytec Matt, Polytec Natura or Polytec Matera finishes. The Durasafe® Raw Oak finish is similar to Laminex Grain, Laminex Nuance, Polytec Ravine finishes.  The Durasafe® Gloss finish is similar to Laminex Gloss finish
The Durasafe® compact laminate range is all stocked in 13mm thickness which is the standard thickness in Australia. It is available to be made to order in 5mm, 6mm, 7mm, 8 mm, 9mm, 10mm, 11mm, 12mm, 16mm, 18mm and 25mm. Minimum order quantities and a 12 week lead time applies to alternative thickness to the industry standard 13mm.
The Durasafe® range a preferred option for Fitout Contractors, Builders, Joiners and Architects due to it's very cost effective system known for its robust and durable quality. As a general rule, Compact Laminate board is prone to bowing, twisting or warping if not handled correctly from the time it is produced until it is machined into the final product. 
When Durasafe® board is used in Duracube cubicle systems, Duracube are able to implement a QA system right through from production, shipping, storage, manufacturing, transport and  installation to eliminate issues from bowing or twisting occuring.
We have put together a list of the similar or alternative colours to assist our clients when working with products from Laminex or Polytec colour ranges. This chart is a guideline and physical samples should be viewed in all instances where colour matching is critical. If you would like samples sent; you can request them here.
The Duracube team are always interested in feedback and suggestions regarding colours, finishes or systems to help us better service the architectural or functional requirements of anyone involved in the design, construction or maintenance of washrooms. Please contact us if you have any specific colours/designs you would like to see in our range!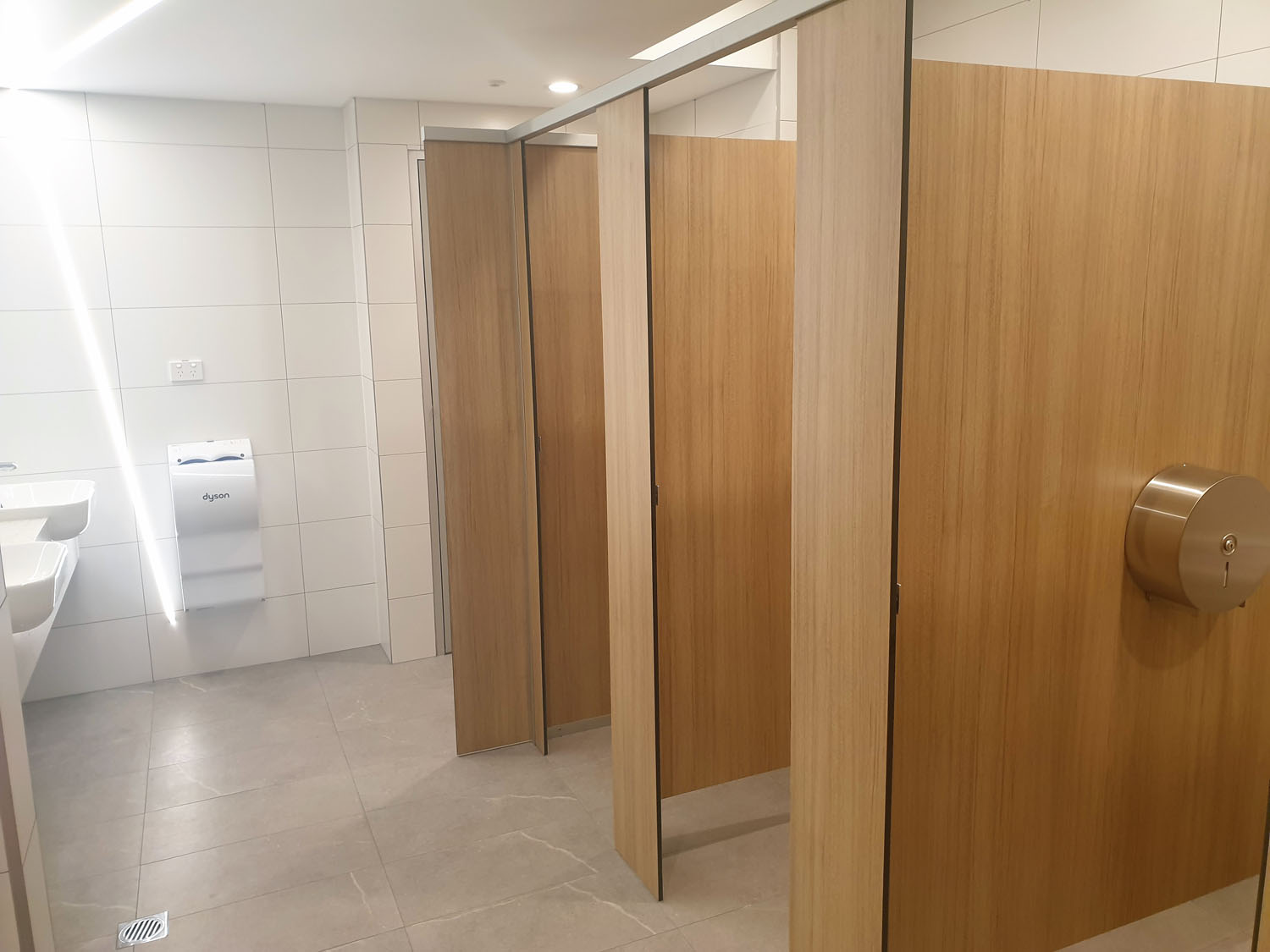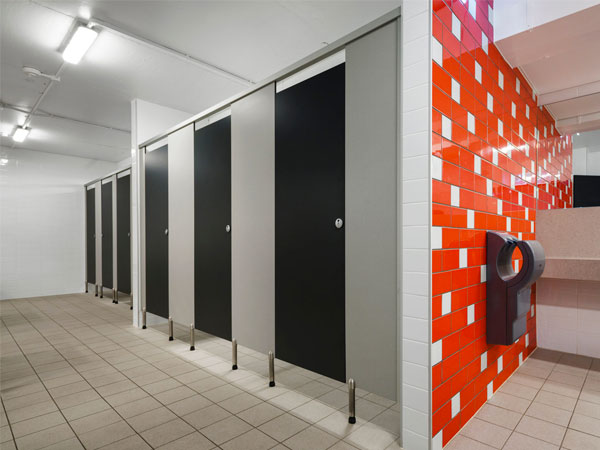 | Laminex | Durasafe® |
| --- | --- |
| Alaskan | 9610 Pure Ash |
| Aquamarine | 290 Marine (Indent) |
| Aries | 276 Classic Grey |
| Batallion | 280 Charcoal |
| Black | 402 Midnight |
| Burnished Wood | 5332 Midnight Acacia |
| Charcoal | 280 Charcoal |
| Classic Oak | 738 Oak |
| Eggshell | 284 Sky (Indent) |
| Elegant Oak | 5003 Phillipine Teak |
| Fossil | 279 Charcoal |
| Fox | 268 Evening |
| Fox Teakwood | 5353 Rosenheim Elm |
| Ghostgum | 113 Off White |
| Juicy | 259 Green Apple |
| Just Rose | 141 Riverstone (Indent) |
| Lava Grey | 268 Evening |
| Licorice Linea | 5331 Midnight Acacia |
| Lusterous Elm | 5353 Rosenheim Elm |
| Mandarin | 217 Sunset |
| Milkwood | 738 Oak |
| Moleskin | 133 Almond |
| Moose | 5730 Brushed Graphite |
| Natural Walnut | 5353 Rosenheim Elm |
| New Graphite | 5730 Brushed Graphite |
| Olympia Blue | 291 Royal Blue |
| Olympia Yellow | 229 Sunshine |
| Oyster Grey | 275 Classic Grey |
| Oyster Linea | 9610 Pure Ash |
| Parchment | 113 Off White |
| Pillarbox | 204 Red Apple |
| Polar White | 111 Artic White |
| Raw Birchply | 5003 Phillipine Teak |
| Seasoned Oak | 738 Oak |
| Sublime Teak | 5002 Phillipine Teak |
| Tornado | 267 Evening |
| White | 112 Off White |
| Zincworks | 922 Brushed Grey |
| Polytec | Durasafe® |
| --- | --- |
| Agave | N/A |
| Angora Oak | 9610 Pure Ash |
| Antico Oak | 5353 Rosenheim Elm |
| Aston White | 111 Arctic White |
| Athena Stone | 5578 Slate |
| Black | 401 Midnight |
| Black Ply | 5331 Midnight Acacia |
| Blossom White | 113 Off White |
| Bottega Oak | 5331 Midnight Acacia |
| Cafe Oak | 5353 Rosenheim Elm |
| Calacutta D'oro | N/A |
| Calacutta Grey | N/A |
| Casentino Beech | 738 Oak |
| Catalina Marble | N/A |
| Cinder | 279 Charcoal |
| Dark Cement | 55788 Slate |
| Empire Oak | 5331 Midnight Acacia |
| Florentine Walnut | 5003 Phillipine Teak |
| Grey Cement | 5577 Concrete |
| Marmo di Monte | N/A |
| Marmo di Torre | N/A |
| Natural Oak | 5003 Phillipine Teak |
| Natural Ply | 5427 Refresh Oak |
| Nickel | 923 Brushed Grey |
| Notaio Walnut | 5353 Rosenheim Elm |
| Noveau Grey | 268 Evening |
| Oyster Grey | 275 Classic Grey |
| Parchment | 111 Arctic White |
| Perugian Walnut | 5331 Midnight Acacia |
| Polar White | 111 Arctic White |
| Portland Stone | 5577 Concrete |
| Portofino Stone | N/A |
| Prime Oak | 5427 Refresh Oak |
| Roman Ceppo | N/A |
| Stone Grey | 275 Classic Grey |
| Storm | 279 Charcoal |
| Tasmanian Oak | 5003 Phillipine Teak |
| Titanium | 5730 Brushed Graphite |
| Tivoli Ceppo | N/A |
| Verdelho | 275 Classic Grey |
| Versuvius Ceppo | N/A |
| White Cement | 5577 Concrete |